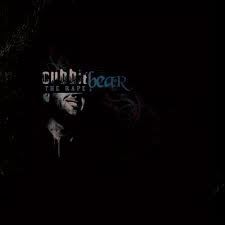 Funny name, hip-hop album, metal review site. Seems like all three strikes necessary to toss this abstract piece of insanity to the dogs, right?
Wrong.
The Rape is a showcase of serpentine lyrical abilities, aschewing verse/chorus/verse club bumping for progressive song layouts and an affinity for post-production touchups that drive the songs further down the rabbit hole. Far from being pop-sensible, and sometimes far from sensible period, the songs often deconstruct themselves into an array of sonic chaos, scattershot samples, and potshot drumbeats amongst emotional assaults of some of the most venomous put to tape in years, the rebuild from seeming chaos into a tangible form.
Essentially, this is not Kanye West. This is Baltimore's Cubbiebear and, while the album displays a bit of immaturity and the lack of big-time financial support can hinder things, the thought process behind The Rape is pure, if a bit off-kilter, and a completely original take on the rap genre as a whole.
Trying to describe the music contained here is a bit difficult. Samples are chopped, slowed, put through turntables, twisted, and filtered to a degree that can almost seem excessive at times... but when the vocals and the beats are given the same treatment, often molding the entirety of the track into a stuttering digital trainwreck, you can't help but notice the amount of effort put into each and every tune. The samples, beats, and vocals are all extensions of the idea, and the idea is the prime controller of the process.
The rap performance here is pretty astounding, even if it is a battle-rap style. Cubbiebear does, in a way, battle through the entire CD: He passes off line after line of jagged cement haymakers at modern hip-hop culture with a certainty and conviction that's difficult to second guess. Tough shots like this one directed at 50 cent from the song "Contra":
You're not a bad motherfucker
If your demographic is only 13 and under
I can't recommend people check out The Rape enough, and the video for "Contra" can easily be found on Youtube if you're so inclined.

Verdict: Epic Win [10/10]